How to choose Wacaco Nanopresso and its equipment
In this article, we will discuss the benefits offered by the various types of accessories available for a coffee machine and how they should be combined.
You can also view the official Wacaco product brochure (update from 5/2022). You can find the brochure here.
Update from 11/2021 - new Wacaco Picopresso:
At the end of 2021, Wacaco brought a novelty - the Picopresso coffee machine. Nanopresso and Picopresso are at first glance similar coffee machines, in fact they are intended for a different target group of users.
Picopresso will appeal to more experienced users, it contains a professional stainless steel basket - similar to lever coffee machines of a higher price class. In order to achieve a satisfactory result with the use of Picopress, it is necessary to have access to freshly roasted coffee and especially to a quality coffee grinder.
Nanopresso will appeal to everyone else, even with the use of lower quality coffee, it will prepare a tasty espresso with a rich cream. If you normally use an automatic coffee machine or a classic lever and you buy coffee ground from the store, we recommend Nanopresso.
Wacaco Nanopresso coffee maker and color options (69,90€)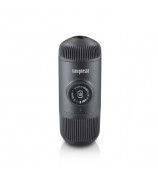 All of the color variants of the Nanopresso coffee machine makes the same coffee. This is the same type only in a different color.
Included in each color variant is a fabric case. For a black coffee machine, we offer the option of buying a hard case in the discount.
If you are interested in a color coffee machine with a hard case, you have to purchase a hard case in size S separately.
Accessories: Barista kit (32,90€)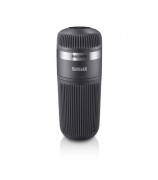 Barista kit allows you to prepare a double espresso or two small piccolos at once.
The Barista kit includes two expandable screwable extensions for the Nanopresso coffee machine:
- an enlarged 140 ml water tank (compared to 80 ml standard volume),
- reduction with which you can use an enlarged 16g coffee dispenser (standard capacity is 8g).
It also includes accessories: tamper for pressing coffee into the dispenser, 2x 16g dispenser with a lid for transfer, 1x 8g dispenser with a lid for transfer, cup for large espresso.
All components are screwed together in one plastic body, so the barista kit does not clink when transferred and all parts are perfectly protected.
Accessories: Nespresso adapter (24,90€)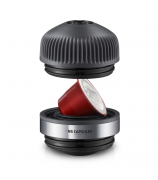 As the name suggests, it is an adapter for the use of Nespresso capsules. If you have a Nespresso machine at home and are buying capsules, this adapter is a must for you.
The advantage of making coffee from a capsule on the road is the easy storage of coffee without losing aroma. The disadvantage is of course the inability to recycle the capsule.
The Nespresso adapter can also be used with our environmentally friendly refillable capsules, check the offer.
You can carry the Nespresso adapter screwed on to the Nanopresso coffee machine or in the supplied fabric case separately.
Accessories: Flask for Nanopresso 3 in 1 (24,90€)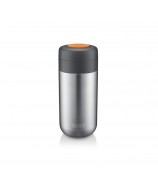 This is not a standard thermos but again a Wacaco product.
We recommend carrying this thermos separately to keep the hot water as isolated as possible. The thermos can be screwed directly instead of the standard water tank.
Using the thermos is very practical, no need to pour water from the thermos into the coffee machine.
This thermos can also be used as a standard thermos for tea. The thermos is compatible in size with the car holders, so you can also use it as a thermal mug.
Accessories: Hard travel shell (19,90€)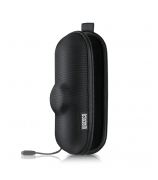 The hard case provides the coffee machine and accessories with the ultimate impact protection. Made of quality material with the soft interior. Closes with a zipper.
If you are transporting the Nanopresso coffee machine, choose size S.
If you are transporting the Nanopresso + Nespresso Adapter, choose size M.
Choose size L if you are transporting a Nanopresso + screwed Nespresso adapter or 16g coffee adapter from a barista kit and a larger water tank from a barista kit.
The thermos with the coffee machine is not compatible with any case, as the thermos need to be carried separately.
Accessories: Barista microfibre towels (9,90€)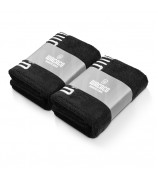 These towels help you perfectly wipe off the remnants of water or coffee from the coffee machine and its accessories. They are made of high-quality microfiber.
Featuring the Wacaco logo, they perfectly fit in the coffee maker accessories.
Products mentioned in article